The White Card by Claudia Rankine
by
Sunita
Claudia Rankine's latest work is a play. It premiered last year in Boston and was covered locally, but I didn't know anything about it until I saw an advance copy of the published script listed as "coming soon" at my library's Overdrive account. The White Card is a two-act play that explores whiteness, white privilege, and how they affect art, and it grew out of Rankine's public Q&As about her much lauded poetry collection, Citizen: An American Lyric. The play has five characters: Virginia and Charles, a wealthy white couple who are art collectors, their college-aged son Alex, their white art dealer Eric, and Charlotte, a youngish black artist whose work most recent work they hope to acquire.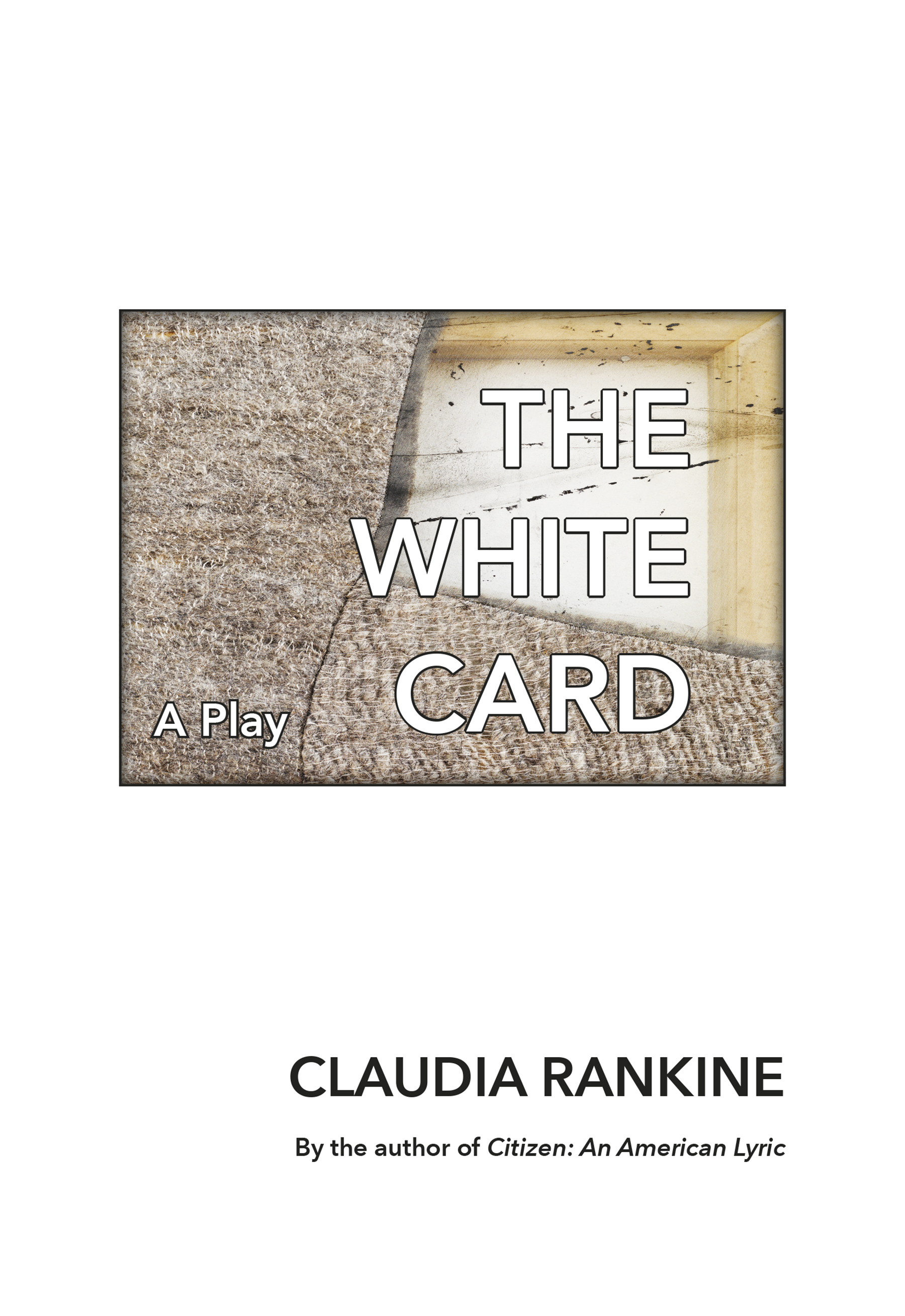 The first act takes place in Virginia and Charles's apartment, which is filled with art on the themes of racism and protest. They've given their black maid (their description, not mine) the night off and are hosting Charlotte and Eric to dinner. Charlotte is picky about whom she will sell her artwork to and Virginia and Charles know she hasn't decided about them, but they seem pretty confident that their liberal credentials will get them what they want. The conversation is stilted and predictable, a reprise of set pieces we've seen at least since Guess Who's Coming to Dinner. Reading the dialogue rather than seeing it performed emphasizes how stylized it is, but it's mostly effective and builds to a shattering climax in the first half, when Virginia and Charles reveal their latest race-centered acquisition. They see it as part of their overall collection, which they have curated to emphasize the racism and inequalities black Americans live with, and they (and to a lesser extent Eric) can't understand why Alex and Charlotte find it exploitative and unacceptable. It's a predictable outcome, but it is powerful nonetheless.
The second act takes place a year after this dinner party and is a two-hander between Charlotte and Charles. And it occurs on Charlotte's turf: Charles comes to her studio. Charlotte's experience the previous year led her to abandon her work in progress, which was a restaging of the Charleston church killings. She has come to believe that constantly showing black bodies in states of distress or as subjects of violence reinforces whiteness and the white gaze rather than challenging it, and she has turned her method to a different subject: Charles.
She shows Charles the photos she's taken over the last few months, all of which emphasize his power, status, and privilege. Charles is appalled and accuses her of stalking him and invading his privacy, but Charlotte points out that they were all public events in which she could be clearly seen photographing him. He just didn't recognize her outside the context in which he had mentally placed her.
When I read the second act, I suddenly realized that the predictability of the first act (I think one reviewer called it "hackneyed") was a perfect setup for what comes next. That dinner party is a scene we've seen, read, or even experienced many times, with well-meaning white people who are both complacent in their belief in their own liberal leanings but also needy, in that they want the objects of their largesse to confirm their goodness. The second act, by contrast, takes that familiarity and upends it. Rather than focusing on the objects of racism, Charlotte's photographs objectify a perpetrator. Each photo reinforces Charles's privilege, which is the privilege which does so much to sustain white supremacy, and covering his walls with photographs of Ferguson and the Million Man March doesn't do a thing to change that. Charles's protests are in part a revulsion against the partial view they offer of him. He wants to be seen as more than his dinner jacket and nonprofit board membership.

One of the exchanges in the first act between Charlotte and the others is about a painting of Emmett Till in his casket, which was painted by a white artist and exhibited at the 2017 Whitney Biennial. The artist, Dana Schutz, justified the painting as one motivated by her identity as a mother:
I don't know what it is like to be black in America but I do know what it is like to be a mother. Emmett was Mamie Till's only son. The thought of anything happening to your child is beyond comprehension. Their pain is your pain.
But, of course, Schutz has no idea what it's like to have your child lynched, to learn that he is yet another instance of the terrible American history of black boys and men who are killed because they are black boys and men, and who are then gazed on by white audiences during and after their deaths. Mamie Till was the mother of a black American young man, and she chose an open casket at least in part to reinforce the method and motivation for his death, not just the fact that he died. If the artist's empathy was with Mamie Till, why wasn't it a portrait of Mamie Till in her moment of profound grief and bravery?
Schutz was given respectful platforms to explain her motivations, including a long and sympathetic article in The New Yorker, entitled "Why Dana Schutz Painted Emmett Till." You can't get a bigger platform in the cultural US landscape than that to tell your side of a controversy. Meanwhile, black critics were depicted through their protest activities and tweets, with headlines like "Should Art That Infuriates Be Removed?" That article, in the New York Times, took ten paragraphs before it managed to observe that
the injured black body is a subject or image that black artists and writers have increasingly sought to protect from misuse, especially by those who are not black.
I'll close with a thought experiment: what if we turned Charlotte's method on Dana Schutz, and restaged her journey from studio to public showing? Her artistic process of imagining and painting the work, having the painting transported to the Whitney, her presence at the gala opening of the Biennial, clips from positive reviews of her work, and finally, sympathetic writeups of the controversy complete with flattering photos of her as the artist.
And where would the subjects of her work be, the human beings who motivated it into existence? Mamie Till would be invisible in these photos, in contrast to her presence in those taken at the actual funeral. And Emmett Till would only be visible through Schutz's painting. Oh, they might appear in depictions of Schutz's early preparations, as she viewed the original photos or read newspaper articles. But once again, she would be the subject and they would be the objects.