SuperWendy's TBR Challenge for March: Love and Shenanigans
by
Sunita
Love and Shenanigans in the first novel is Zara Keane's Ballybeg series. I picked up the five-novel boxed set ages ago and it's been on my ereader for almost as long. Zara is someone I've known in Romanceland since before she was a published author, but I've had no contact with her for the last couple of years since we're not on the same social media platforms anymore.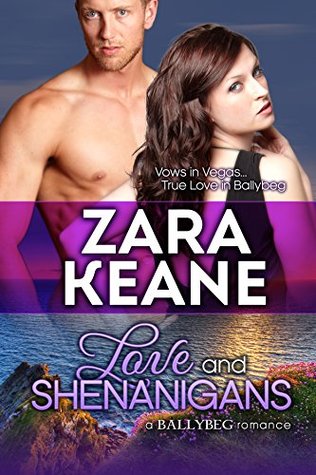 This month's TBR theme is "favorite trope," which I had a bit of trouble with because I don't really read by trope. But I do like certain setups and relationships more than others, no question. I like pretty much any form of romance that involves people who already know each other, whether it's friends to lovers, second chance at love, friends of siblings, etc. And I'm a total sucker for marriage of convenience. I also have a weakness for small-town romance despite all the problems with those and despite the fact that (or perhaps because) I have never lived in anything remotely approaching a small town. I dug around in my TBR, considered and discarded a few possibilities, and then rediscovered Zara's books on my ereader.
Love and Shenanigans features a heaping helping of tropes I gravitate toward: small-town childhood friends who discover that their supposedly annulled Las Vegas marriage wasn't annulled after all. And if that isn't enough, they find out on the eve of the hero's marriage to the heroine's cousin. Talk about piling on. But it totally works, because the main couple are down to earth and fun, and also because the writing doesn't wink at the reader or camp it up. Yes it's a ridiculous situation but I bought the whole thing (OK, maybe not the drunken marriage itself, but everything else). Keane is Irish and she writes the heck out of an Irish setting without condescending. It reminded me of Ballykissangel in a good way, i.e., less cloying and clichéd. If you step back and think about it then yes there are stereotypes, but they aren't hitting you over the head.
On to the story. Fiona comes home to Ballybeg to be Maid of Honor at her unpleasant cousin Muireann's wedding to Gavin. She doesn't really want to but she wants to please her Aunt Bridie, and it's her last act before going to Asia and Australia on her sabbatical year from teaching. But then she discovers that her fake marriage to Gavin nine years ago wasn't as fake as they thought and the fat is in the fire. The fallout at the wedding ceremony results in a hospital visit for Bridie, and Fiona is the only one around who can pick up the slack.
Meanwhile, Gavin is confronting the disastrous consequences of still being married. Muireann is out for blood and so is her powerful real-estate developer father, Bernard. Fiona and Gavin can't avoid each other because they are next-door neighbors, and they soon find that their long-ago feelings aren't completely gone.
We meet any number of residents of the town, some of whom will definitely go on to star in future installments of the series. Fiona and Gavin's relationship develops slowly and believably, and by the end some of the villains of the piece get their comeuppance. I appreciated that Muireann wasn't totally demonized despite her selfish and vindictive behavior; she isn't a particularly nice person, but she develops self-awareness over the course of the story and Gavin recognizes that she wasn't the only one screwing up their relationship.
I believe this was Keane's first novel, but it doesn't read like one. I liked the voice enough to go on and read the next installment right away, which was a novella featuring a marriage in jeopardy plot (Love and Blarney). It was more novella-ish, for good and ill, but it was enjoyable, and I'm looking forward to the other three stories in the box set I have.